The moment we hear about a 'Punjabi wedding,' the first thought that crosses our mind is a grand wedding with loud music, dancing lots of fun, frolic and unimaginable varieties of food! Punjabis live in almost every part of the world. People belonging to the Punjabi community are fun-loving but glued to their traditions and culture. From some lesser-known customs to the more common ones, from traditional ones to modern ones, a Punjabi wedding has it all!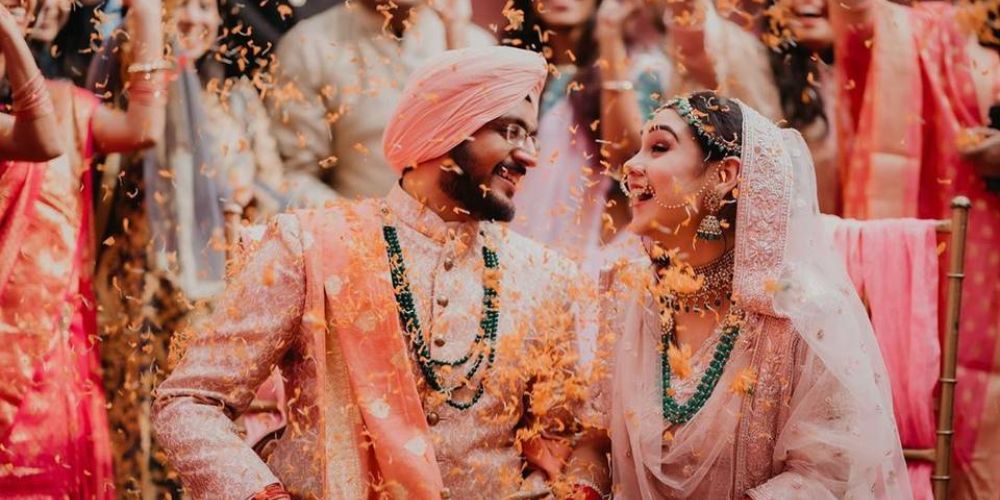 List of 7 Interesting Punjabi Marriage Rituals:
Are you excited to know about Punjabi wedding rituals? Here is your complete guide
1. The Roka
The Roka, Thaka, Chunni ceremony and engagement take place before the wedding ceremony. The wedding is generally a grand affair and lasts for 2-3 days. The Mehendi ceremony is a very important function where the bride and most of the grooms get beautiful designs of henna applied.
2. Sangeet
One of the most extravagant ceremonies of a Punjabi wedding is the sangeet. It is organized a day before the wedding were relatives, friends, bride and groom dance, sing and play fun games.
3. The Haldi
The 'haldi' ceremony generally takes place on the day of the wedding. A mix of turmeric, rosewater, and mustard oil is applied to the bride's and groom's bodies. These days it is a combined function where everybody is dressed in yellow.
4. Kangana Bandhna
The 'Kangana bandhna' ceremony, the 'chooda ceremony' and 'kalire' ceremony are held on the wedding day.
5. Ghodi Chadha
After the 'sehrabandi,' the ritual of Ghodi Chadhna takes place. This is the baraat where the groom, who is on a horse and his family and friends, proceeds to the bride's house for the wedding. This involves a lot of dancing and fireworks.
6. Madhuperka
This is followed by the Varmala, where the would-be husband and wife exchange garlands. Another ancient Vedic tradition observed in a Punjabi wedding is called the 'Madhuperka.' The groom is served with sherbet or madhuperk, which is made of clarified butter, curd, honey, and essence.
7. Kanyadan
The 'kanyadan' is followed by the 'phere,' where the bride and the groom have to circle seven times before the fire. The final ceremony is the Vidaai, where the groom takes his newly wedded wife to his own house.
Wedgate Matrimony is one of the leading Punjabi marriage bureaus in Delhi. It has been successful in finding the perfect alliance for millions of people. With a huge database of prospective brides and grooms, it is not difficult to find the one made for you.
Must Read: What to Do and Don'ts of Sikh Matrimony?
Frequently Asked Questions
Q1: What is a "chuda" ceremony?
Ans: "chuda" ceremony is called Bridal bangle ceremony.
Q 2: What happens in a "haldi" ceremony?
Ans: In a pre-wedding ceremony, turmeric paste is applied to the bride and groom's skin to bring a natural glow.