Brahmin marriages are organized and celebrated at a grand level with soulful music, fragrant and beautiful flowers, tasty cuisines, and bright colors. Brahmin marriage rituals with a deep spiritual meaning have been followed since ancient times. In simpler terms, a Brahmin wedding is not only a celebration but a set of ritualistic practices.
If you have met any partner with the Brahmin marriage bureau and want to marry him/her, then make sure the following main rituals are performed in your wedding.
10 Brahmin Wedding Rituals:
1. Siddhant Ceremony

This ceremony is related to the approval of the union of the would-be bride and groom. The Panikar first visits the priest and then approves the marriage.
2. Vratham

In this ceremony, both families tie a blessed thread around the would-be couple's wrist to prevent evil spirits.
3. Nischayathambulam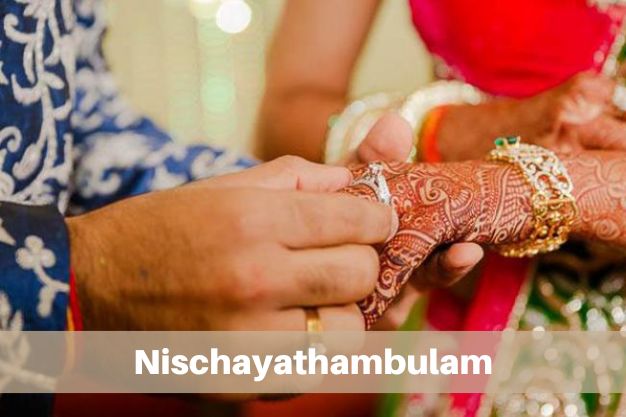 This is an engagement ceremony in which the bride and groom exchange rings. This is the official announcement of their wedding.
4. Jaanavasam
This ceremony is performed for the groom in which he goes to the nearby temple and performs a small Puja. Traditionally, he would return on an elephant's back. But, today grooms return from Puja by car.
5. Nandi Puja Ritual
Ten days before the wedding, both families go to the nearby temple to perform Nandi Puja and seek blessings from God.
6. Kasi Yatra

In this ritual, a groom pretends to leave the Mandapa to go to Kasi and become a sage. The bride's father stops him and brings him back to the Mandapa by describing the significance of getting married.
7. Uradha-moorthu Ceremony
The bride and groom together grind the moong dal on a stone with the help of the bride's bachelor sisters and cousins.
8. Mehendi

The female members of would-be couple's families apply Mehendi on their hands. Mehendi designs are also created on the hands and feet of a bride.
9. Haldi

The female members of both the bride and groom family apply turmeric paste on the face, hands, and feet of the dulhaniya and dulha.
10. Saptapada

The priest chants holy mantras in front of the holy fire and the Brahmin bride and the Brahmin groom complete seven rounds around the fire.
So, now just that you know about Brahmin wedding rituals and traditions, it's your time to search for the Brahmin bride and groom. Wedgate Matrimony makes this search easier by providing the list of the most suitable Brahmin candidates living in India and overseas.
Don't miss:- Christian Wedding Customs And Rituals To Know Befor Attending A Christian Wedding